Date: 2021-10-30 08:22:29
Severe storm warnings have been issued for parts of southern Queensland, with large hail and damaging winds forecast.
The cells developed over far northern NSW about lunchtime and were moving north across the border in the early afternoon.
The Bureau of Meteorology issued a severe weather warning for parts of the Darling Downs, Granite Belt and Southern Downs just before 3:00pm.
They are likely to produce damaging winds and large hailstones in the warning area over the next several hours.
The cells are moving northeast and are forecast to affect Killarney by 4:15pm. Warwick, Toowoomba, Dalby, Ipswich, Coolangatta, Stanthorpe and Gatton also may be affected.
Storms are likely to hit Brisbane this afternoon and may persist into the early hours of the evening.
The wild weather is being caused by several phenomena; a surface trough across inland parts of the state, an upper trough moving over south-east Queensland and a south-easterly wind change.
Meteorologist Kimba Wong told ABC Radio Brisbane it might be a "big storm day" in the south-east.
"The timing of that south-easterly wind change is going to be really critical for how dangerous these storms may be as they fire up this afternoon.
"At this stage, it's looking like it's going to line up perfectly with the middle of the afternoon and be quite a potent setup for severe thunderstorms today."
She said BOM could not rule out "higher end" thunderstorms with large hail and damaging winds.
"So, supercell thunderstorms developing around south-east Queensland including potentially across Brisbane as well today," she said.
Ms Wong said the morning weather was "benign" but that is forecast to change.
"[It's] a day to keep an eye on the radar and the warnings page as we head through the day," she said.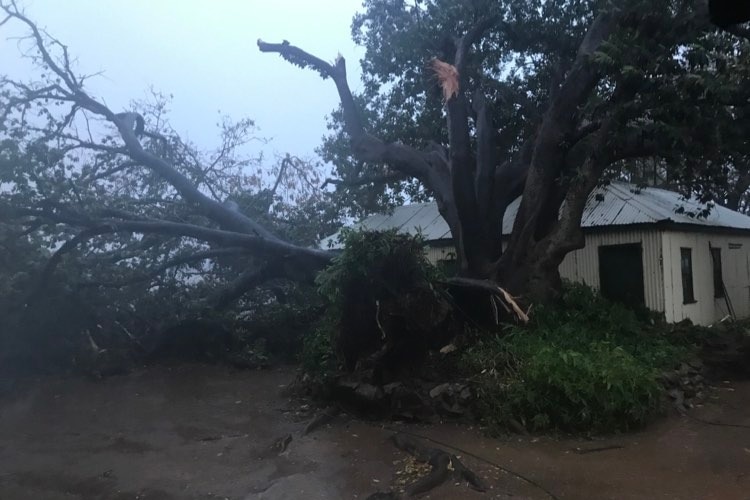 Parts of inland Queensland were hit by severe storms last night.
A number of severe thunderstorms rolled through the Darling Downs and Maranoa and Warrego regions during Friday evening, before warnings were cancelled about 9:15pm.
Andrew Petersen, from Alice Downs in Blackall, said his property got 19 millimetres in a wild storm last night.
"The old Moreton Bay Fig couldn't handle it," he said.
Keep up with the warnings with ABC Emergency. 
Loading
Source link